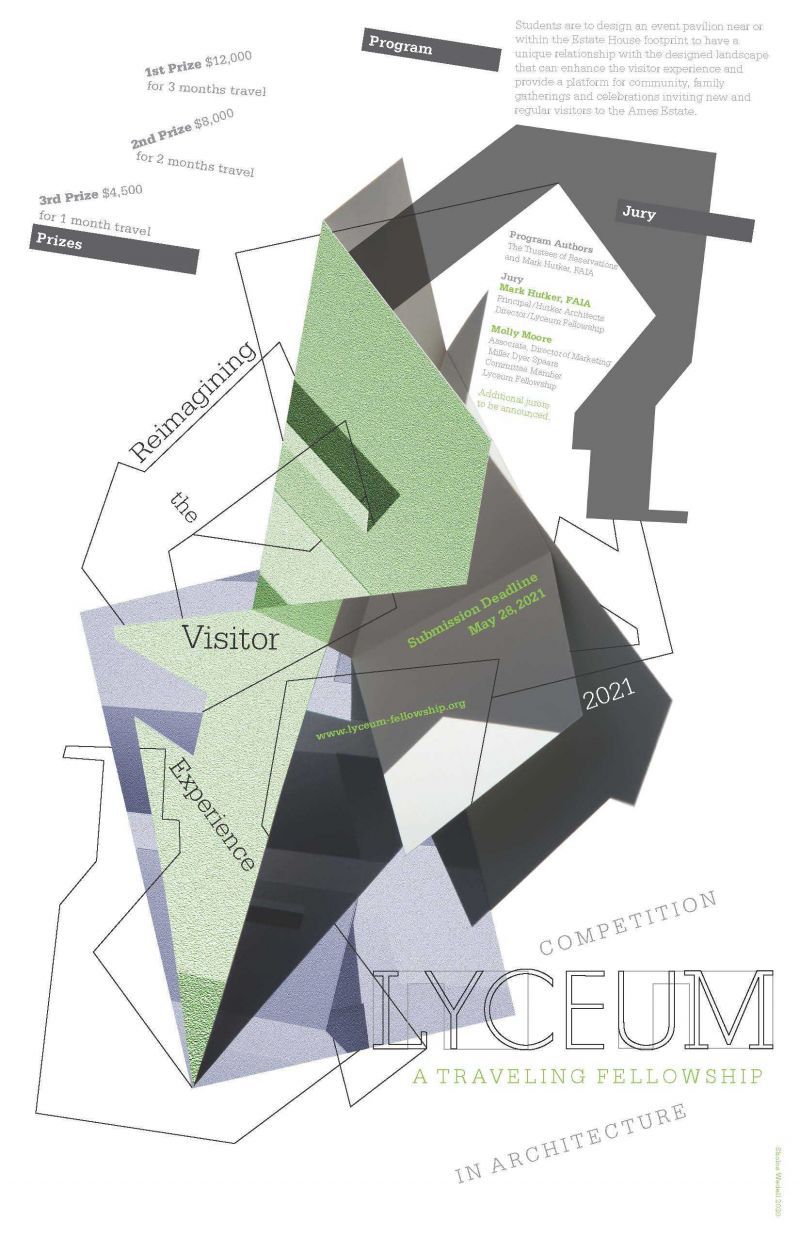 2021 Competition
Reimagining the Visitor Experience
2021 Competition Overview
When founded in 1891 by landscape architect Charles Eliot, The Trustees of Reservations (The Trustees) name was much better understood. The term "reservation" was used by Eliot to describe his own notion of "park-making." Unlike Frederick Law Olmsted, whose approach to designing parks was to start from scratch, Eliot favored selecting natural or cultural landscapes that had inherent beauty and interest and then improve, preserve, and open them to the public. The Trustees of Reservations is the first private, nonprofit conservation organization of its kind in the country.
Governor Ames Estate lies in the center of the tightly developed village of North Easton, Massachusetts. It is adjacent to regional populations from the surrounding communities of over 320,000 people. The town recently has moved to create a cultural district to create a cohesive approach to marketing all it has to offer and creating opportunities for partnerships across many of the organizations. The cultural district is the Easton Shovel Town Cultural District and seeks to connect visitors to town landmarks, private businesses, and cultural initiatives.
The estate house site itself holds a prominent position in the landscape, which had been carefully chosen and manipulated in design by Governor Ames. It still captures one of the best vantage points on the property, with views down to both the Fish Pond and Shovelshop Pond and well positioned to capture the summer breeze.
Students are to design a 1,500 square foot event pavilion near or within the Estate House footprint to have a unique relationship with the designed landscape that can enhance the visitor experience and provide a platform for community, family gatherings and celebrations inviting new and regular visitors to the Ames Estate.
A nearby stone carriage house built in the style of the original mansion is to remain and may be considered as usable for the pavilion support program elements. Foundation ruins of the 1897 greenhouse and conservatory complex are to be reimagined as part of the program.
Submission Deadline: May 28, 2021

Jury
Mark Hutker, FAIA
Principal
Hutker Architects
Director / Lyceum Fellowship
Stephen Stimson, FASLA
Principal
Stephen Stimson Associates
Landscape Architects
Lauren Stimson, ASLA
Principal and Partner
Stephen Stimson Associates
Landscape Architects
Catherine Truman, AIA LEED
Principal
Catherine Truman Architects
Matthew Cunningham, RLA
Principal
Matthew Cunningham
Landscape Design, LLC
Molly Moore
Associate, Director of Marketing
Miller Dyer Spears
Committee Member / Lyceum Fellowship