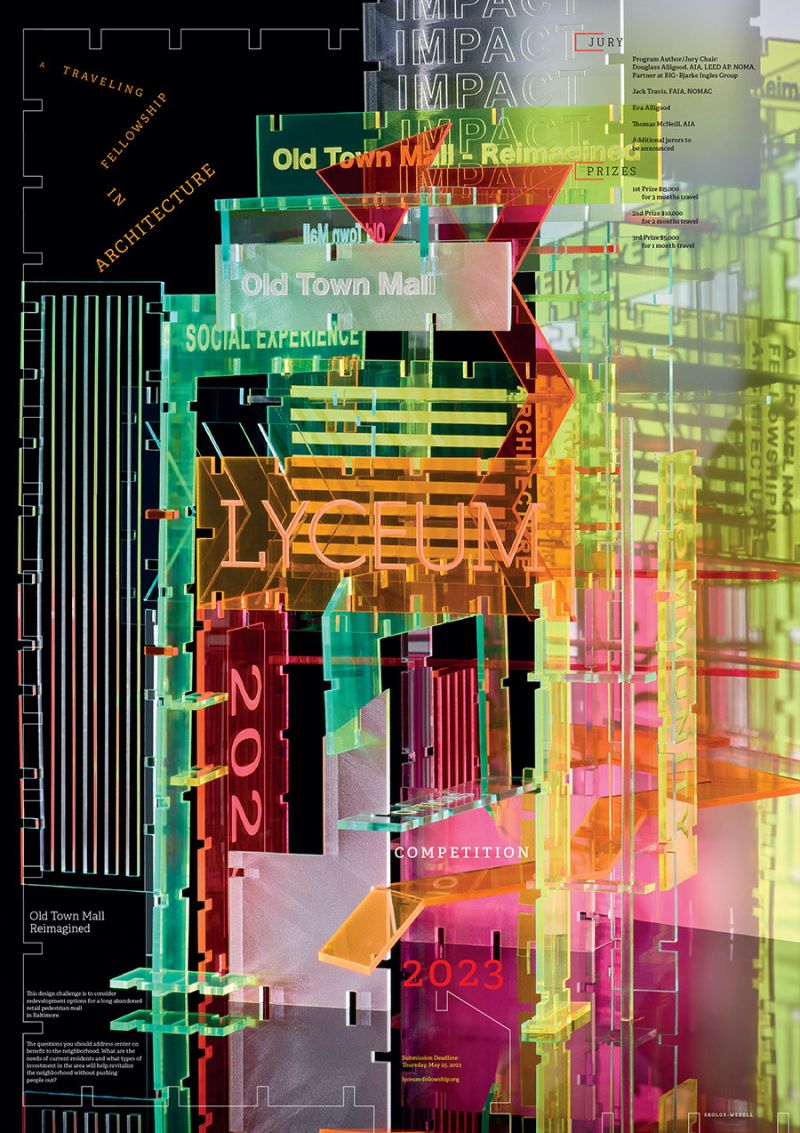 2023 Competition
Old Town Mall — Reimagined

Program Author and Jury Chair:
Douglass Alligood AIA, LEED AP, NOMA
Partner, BIG-Bjarke Ingels Group
The Old Town Mall, the long abandoned outdoor pedestrian retail mall in the heart of Baltimore's "Black Butterfly", is the site of our 2023 competition. Centering on benefit to the neighborhood, students are challenged to redevelop the four-block, 16-acre parcel. Designers will explore new programs for the site, study preservation vs. demolition options, evaluate public vs. private uses, and propose methods for engaging the community.
Learn More
Travel By the Numbers
1986–Present
Lyceum Archives
2022 Winners Announced!
The competition programs have spanned the continent and globe, challenging students to think broadly about the venues and opportunities for creative design, environmental and social impact.
See Past Winners
2022 Competition
LYCEUM STUDIOS
Faculty are enthusiastically encouraged to structure design studios around Lyceum competition briefs. Sign up for our emails to be among the first to learn about new competitions on the website. "The Lyceum Fellowship Competition is an outstanding learning experience for the student competitors and faculty advisors. The project brief provides a detailed and informed foundation, and the integration of developing a travel proposal along with a design project encourages expansive thinking. Aspects raised through design inquiry open portals to seeking in-situ learning. The method of presentation encourages both independent exploration and the focus to convey ideas through concise expression. While the prizes are substantial, it was evident that an incredibly valuable semester was its own reward." Joanna Lombard, University of Miami Faculty Advisor