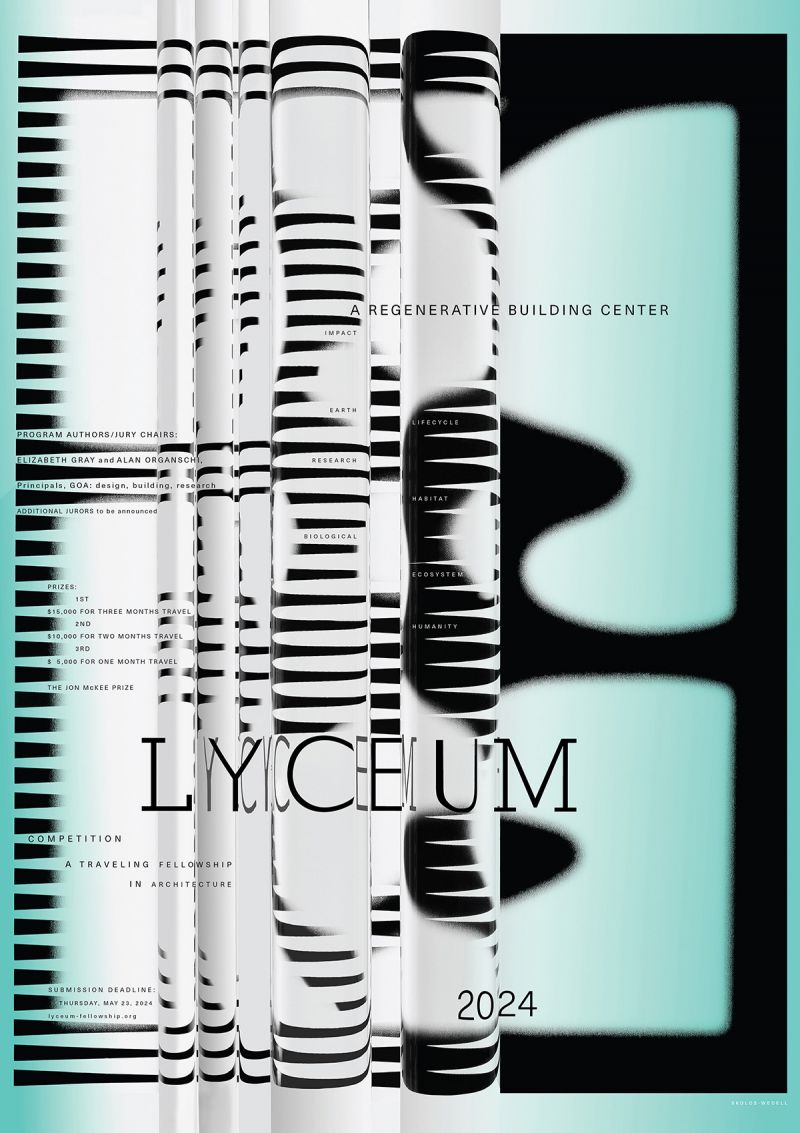 2024 Competition
Re-forming The Anthropocene:
A Center For Regenerative Building
Program Authors and Jury Chairs:
ELIZABETH GRAY and ALAN ORGANSCHI
Gray Organschi Architecture
The 2024 Lyceum Competition explores the potentially regenerative symbiosis between the inevitable growth of human settlement—our buildings and infrastructure, our towns and cities—and the essential health of our terrestrial ecosystem. The program calls for a new, hybrid building type, a "maker space" that functions as an essential component of a regional economic and ecological metabolism. The building itself will serve as a model of regenerative design and construction.
Download Program Brief
Submit Your Project
2024 Competition Overview
As a local resource with a global outlook, the Center for Regenerative Building seeks to demonstrate our agency as architects and builders in reining in and regionalizing our current global exchange of material and energy associated with our activities as builders. This expanded set of design objectives serves to reinforce the more traditional concerns of building joyfully, beautifully, and meaningfully for a convivial built environment and equitable society.
Three primary programmatic elements comprise the Center for Regenerative Building:
a community building material "bank" with exterior and interior spaces for bio-based and salvage material collection, preparation, storage, exhibition, exchange, and reuse.
a facility for building experimentation, vocational training, and demonstration to encourage new micro-economic business enterprise, create workforce employment opportunity, and empower citizen builders to construct, maintain, and repair their own homes and workspaces.
a hostel (short-stay housing and shared facilities) for visiting vocational trainees.
Jury
Elizabeth Gray
Principal, Gray Organschi Architecture
Alan Organschi
Principal, Gray Organschi Architecture
Michael Pardek
Vice President, Director of Design, SMMA
Director, Lyceum Fellowship
Prizes
for three months of travel abroad
for two months of travel abroad
for one month of travel abroad
Awarded at the discretion of the Lyceum Board, the Jon McKee Prize recognizes an outstanding travel statement, design project that was not awarded, or Merit winner, enabling the student to travel—award amount will be determined by the Lyceum Board.
Certificate of Recognition