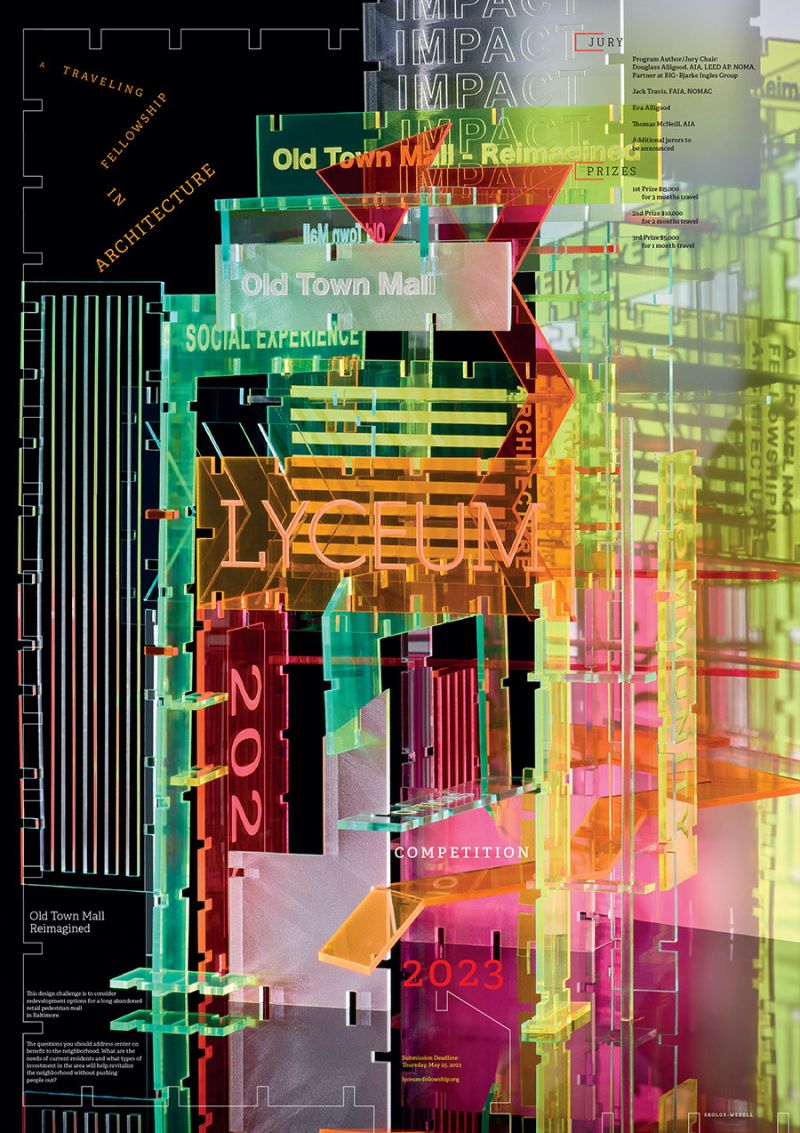 2023 Competition
Old Town Mall—Reimagined

Program Author and Jury Chair:
Douglass Alligood AIA, LEED AP, NOMA
Partner, BIG-Bjarke Ingels Group
The Old Town Mall, the long abandoned outdoor pedestrian retail mall in the heart of Baltimore's "Black Butterfly", is the site of our 2023 competition. Centering on benefit to the neighborhood, students are challenged to redevelop the four-block, 16-acre parcel. Designers will explore new programs for the site, study preservation vs. demolition options, evaluate public vs. private uses, and propose methods for engaging the community.
2023 Competition Overview
This design challenge is to consider redevelopment options for the long abandoned pedestrian retail mall in Baltimore. The questions you should address center on benefit to the neighborhood. What are the needs of current residents and what types of investment in the area will help revitalize the neighborhood without pushing people out? Is this neighborhood a food desert, a healthcare desert, etc.? For years, developers, planners and policy makers developed strategies focused on restoring the mall to its glory days. Recently, low-income or market rate housing have been proposed, yet none have moved forward. Designers should use information available online to assess potential needs and create a written narrative of how they would engage with the community if this were a real project.

One of the central questions that should be addressed is whether the mall should be saved at all. Should some, or all of the buildings be demolished? Several of the existing structures are in such a state of disrepair that they are probably not habitable anyway, so why not tear them all down and start fresh? How much importance should be given to the historic nature of the mall? Is saving the buildings a misplaced sense of nostalgia?
The pedestrian mall does not have to be recreated as a retail mall for this design challenge and does not need to be kept as pedestrian only. Evaluate whether reopening the street to vehicle traffic will benefit certain uses. What other uses could be added in place of retail? Can housing be integrated into a redevelopment? Can a future development attract people to the neighborhood? How can the outdoor space blur the line between public and private space? How can this public space enhance the community? Should development be expansive across the entire site in one big move or will a small intervention on a portion of the site allow future flexibility?

"Many of us architects are trained in the design of a singular building, but we have little background in developing or considering the social or economic impacts that drive a project or may be the result of a project. In my recent experience, clients are asking us to help them create the development idea and participate in the evaluation of the potential impacts of different development options as part of our design process."
—Douglass Alligood, Partner, BIG-Bjarke Ingels Group
Jury
Douglass Alligood, AIA, LEED AP, NOMA
Program Author & Jury Chair
Partner, BIG-Bjarke Ingels Group
Jack Travis, FAIA, NOMAC
Architect, Cultural Design Consultant
Eva Neubauer Alligood
Executive Director, Hester Street
Vaki Mawema, LEED AP, BD+C
Managing Director, Principal, Gensler
Thomas McNeill, AIA
Director, Lyceum Fellowship
Partner, Hutker Architects